Elizabeth Rudolph, JD, MSN, RN
Elizabeth Rudolph is an attorney and nurse with many years practicing health care law in Memphis, Tennessee. She obtained her Bachelors in Nursing, Masters in Nursing and Law Degree from Vanderbilt University, Nashville, Tennessee.
Ms. Rudolph is a national speaker on legal issues in nursing and legal nurse consulting. She has spoken at over two thousand conferences, seminars and workshops. Ms. Rudolph has authored numerous publications on legal and nursing issues, which are available in books, courses, and online trainings. She has been the subject of published articles and featured in network television programming.
Elizabeth Rudolph, JD, MSN, RN in summary:
√ TV Appearances
√ Radio Station Interviews
√ Subject Matter Expert in Videos and DVDs
√ Published Author of multiple Books and Articles
√ Entrepreneur
√ Member of many Legal and Nursing Organizations
√ Volunteer for numerous service and community organizations
√ Provide Presentations for Organizations, Hospitals, Universities, Colleges, and Companies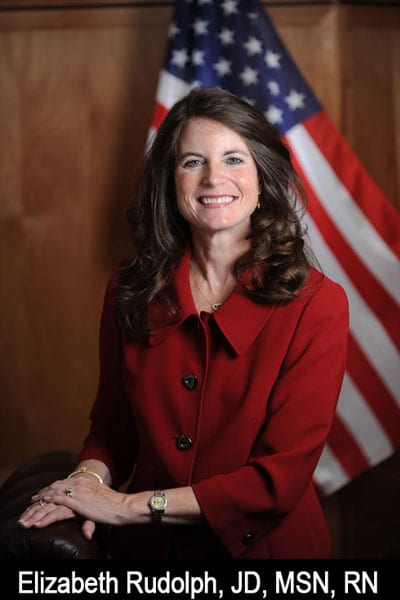 Elizabeth Rudolph as seen on
ABC, NBC, and CBS